If you're looking for a free alternative to Typeform, you've come to the right place. We've always admired Typeform as a company and they truly raised the bar for building a great form builder product.
However, there were a couple of things we didn't like so much about Typeform - enough little things that we decided to build Reform. Reform is our take on how a form builder, and the forms built with it, should work today.
Read along to learn more about how Reform is different from Typeform.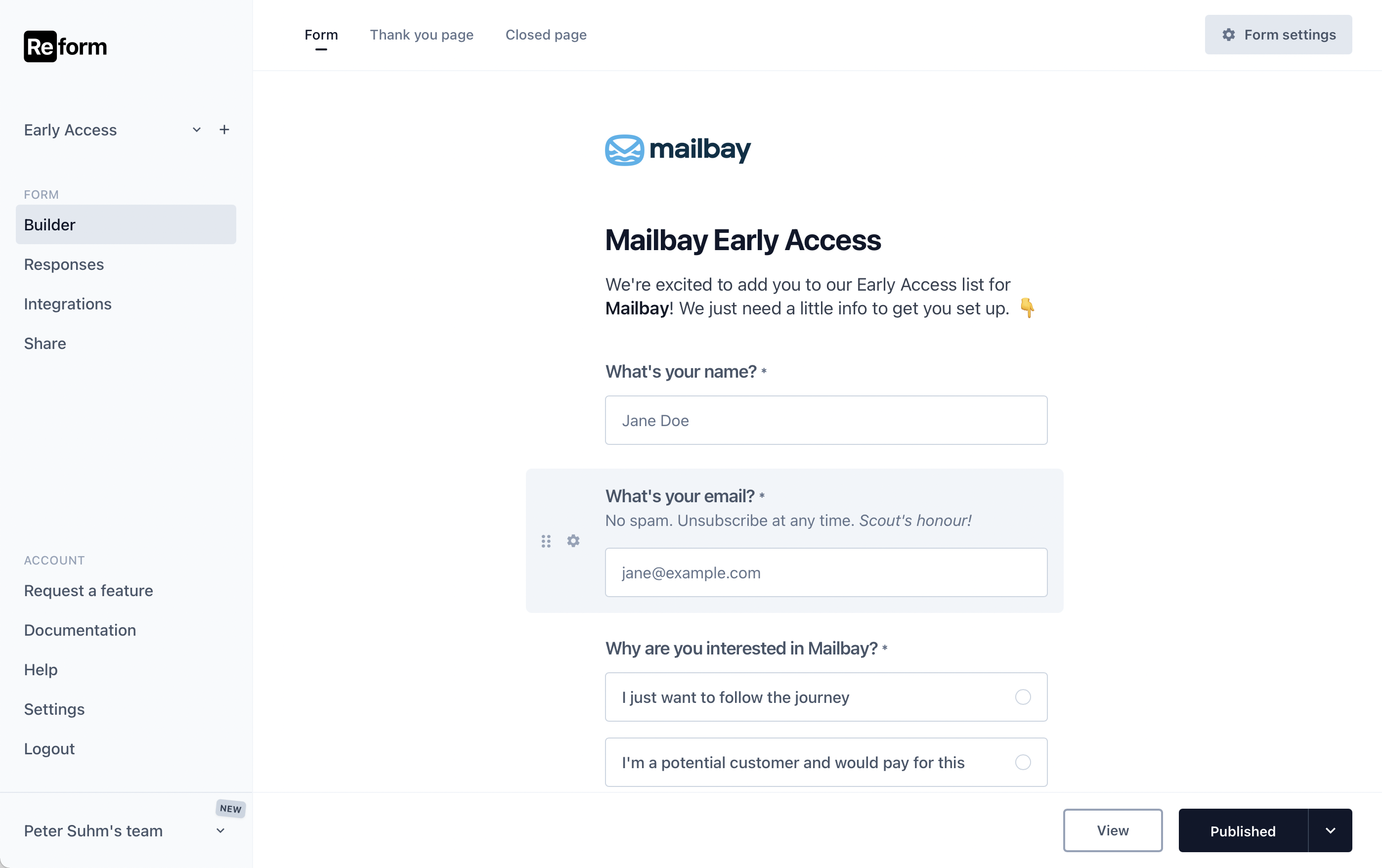 Try the Reform form builder without creating an account here.
Reform: Unlimited responses for free
Typeform: 10 responses per month for free
Reform has a generous free plan that you can use to collect unlimited form responses and create unlimited forms. Typeform's free plan is limited to 10 responses per month.
The main difference between Reform's free plan and our paid tiers (see our pricing here) is that on free forms, we show a button at the bottom of the form that says "Create your own Reform." This button is what allows us to let you use Reform for free. You can see how it looks in the screenshot below. Another difference is that on paid plans, you can customize how the "Thank you" page looks after someone submits your form. With Reform Free, you get our standard "Thank you"-page.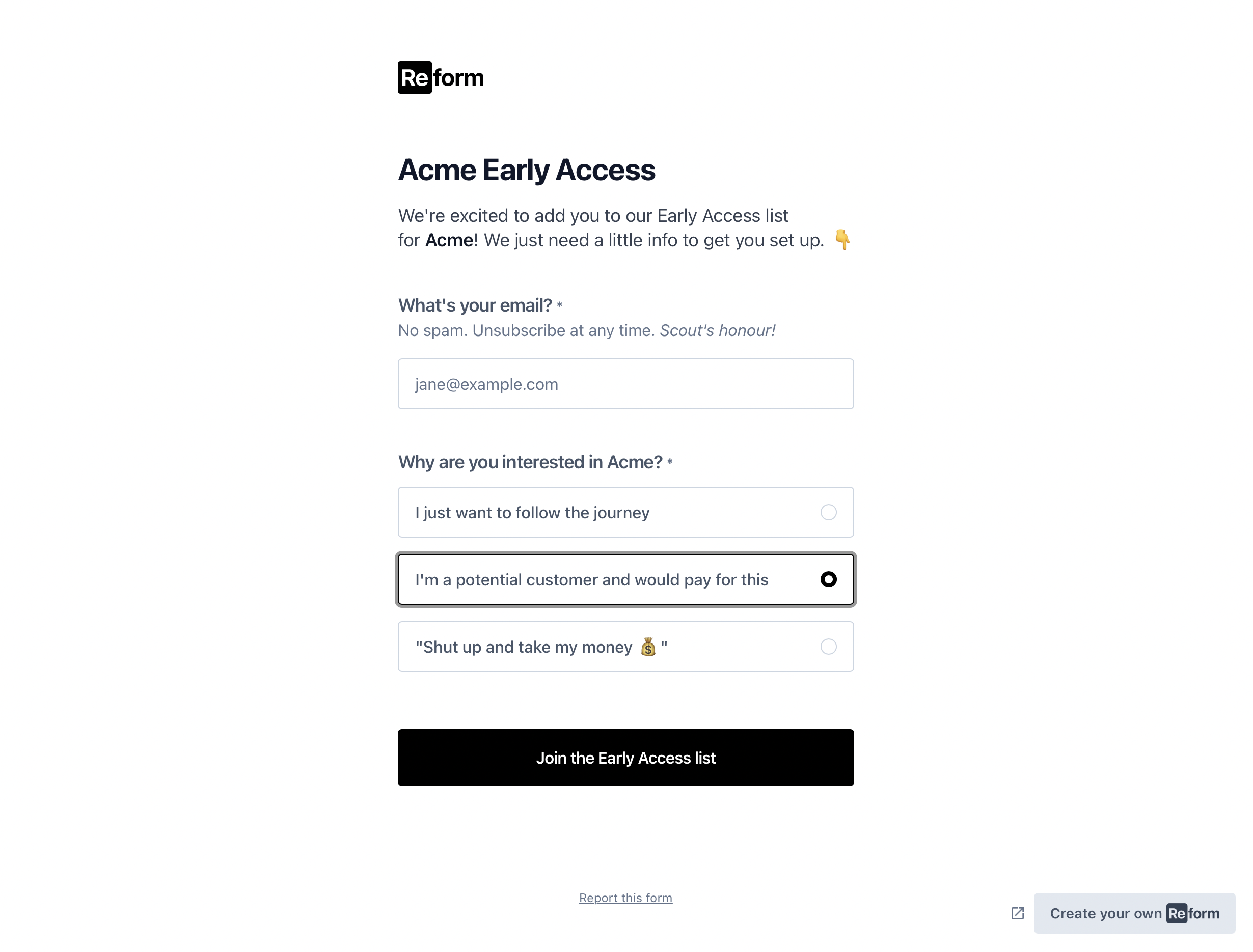 Reform: Group multiple questions on one page
Typeform: Only one question per page
There's one thing about Typeform we've always felt strongly about: that one-question-at-a-time was a silly limitation. Now, a conversational form flow can make sense for some forms, but in our opinion, it's a poor user experience for most forms. It's okay to ask for the first and last names on the same page. Actually, it makes much more sense.
Some forms (well, most) are more transactional and not meant as a "conversation." That's why with Reform, you get the choice.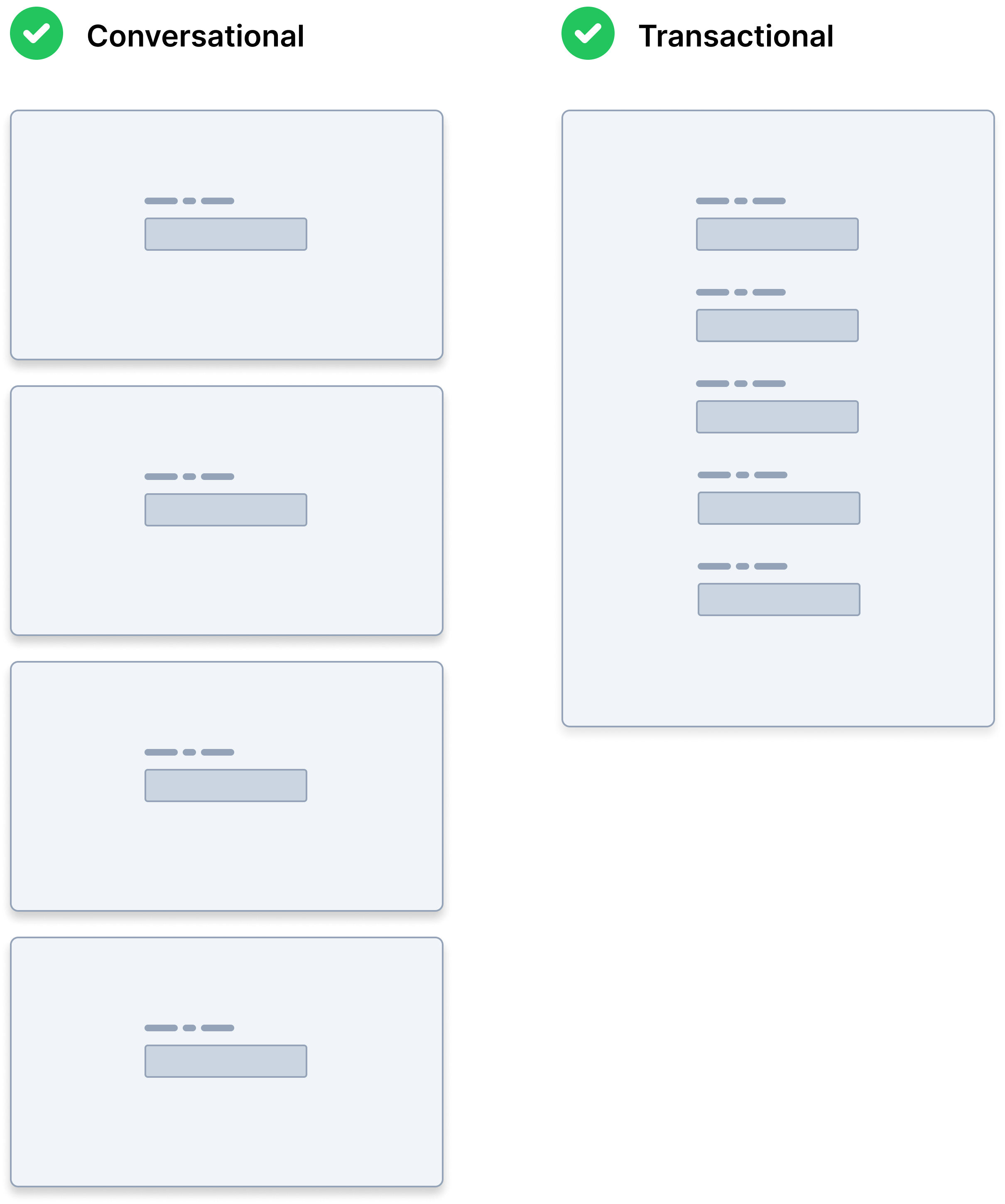 Reform: $15 per month for unlimited responses
Typeform: $59 per month for 1,000 responses
It isn't simple to compare prices of products one-to-one because different products are priced on different metrics. However, overall we think Reform will be significantly cheaper for you than Typeform (let us know if you disagree). For example, our base plan comes with unlimited monthly responses and is priced at $15.
To get, say, 1,000 monthly responses with Typeform, at the time of writing this, you'd have to pay about $59 per month (almost 4x the price of Reform). Now, on that Typeform plan, you would also have access to invite team members. To get that same functionality in Reform, you would pay $25 instead of $15, which is still significantly less than what Typeform offers.
Learn more about Reform's pricing here
Reform: Hide Reform branding on all paid plans
Typeform: Hide Typeform branding on the Plus plan and above
When designing Reform, our goal is to make forms look super clean and beautiful. We believe that a minimalistic form won't take much customization to look and feel like your brand. By adding your brand color and logo on top of our minimalistic design, your brand will stand out with almost no work required. In addition, hiding Reform's branding is available to all paid customers. With Typeform, you have to be on one of their more expensive plans to hide the Typeform branding.
Typeform employs some of the world's best designers, and we've always admired their work. They have significantly raised the bar in the form builder space. In our opinion, however, Typeforms look too much like Typeforms and are too opinionated for most forms. That's why we picked minimalism for Reform.
We optimized Reform for speed: Speed of making and filling out forms, browsing responses, and setting up integrations. If loading a Reform took so much time that we had to show you a loading spinner, we would have failed.
Yet, this is not the standard in the form builder space. Other form tools are bloated with fancy designs and features that take a long time for the browser to load. Adding cool-looking designs, "slick" animations, and tons of customization options come at a cost. And that cost is speed.
"Reform is what Typeform should have been: clean, native-feeling forms that are quick and easy to spin up. Reform does the job without a bunch of ceremony."